Zero Waste
How is Waste Management helping Yamhill County reduce waste and divert material from the landfill?

By removing recoverable materials from the waste stream and keeping them out of the landfill. At our newly renovated transfer station in Newberg, dry waste from county residents and small businesses is captured and sent by truck – seven a week, totaling 100 tons – to Waste Management's material recovery facility in Hillsboro. This is waste that used to go to the landfill and is now being sorted at Hillsboro and repurposed.
Diverting waste at our Newberg transfer station to our state-of-the-art MRF in Hillsboro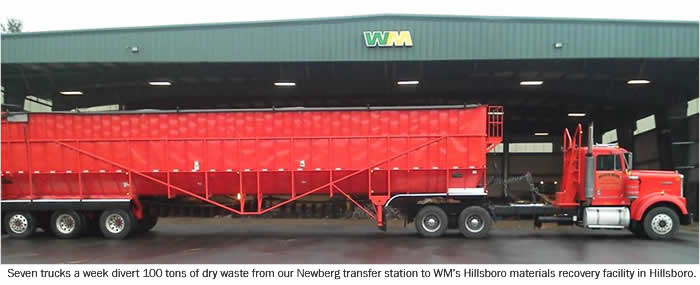 By making recycling easier than ever. We just expanded our residential recycling program in rural Yamhill County, providing recycling collection to another 2,000 residents. This is the first time many of our friends and neighbors in rural Yamhill County have been able to recycle from home. This means increased recycling and fewer greenhouse gases for all of Yamhill County. Research shows people recycle more when it's easy and convenient, and one truck picking up recyclables – versus all those cars making trips to the transfer station – means lower greenhouse gas emissions. For more about WM curbside recycling in Yamhill County, go to wmnorthwest.com/newberg
By expanding plastics recycling at our Newberg site. You told us you wanted to recycle more types of plastics, and we listened. Yogurt and margarine containers, flowerpots and plastic buckets of certain sizes are all now accepted at the WM recycling center at 2904 Wynooski Road in Newberg. For more information, go to wmnorthwest.com/newberg/guidelines/depotrecycling.htm
By using the waste that's left over to power thousands of local homes and businesses. WM and McMinnville Water & Light use everyday garbage to provide renewable energy to 2,500 homes and businesses. This technology extracts value from waste as it decomposes naturally in the landfill. The decomposition creates landfill gas (mostly methane), which is collected through a network of pipes and delivered to WM's $10 million energy plant. We use the gas to power engines, which generate electricity on-site for sale to McMinnville Water & Light. Plus, the process reduces green house gases by offsetting the use of fossil fuels at power plants.