Clean Air Commitment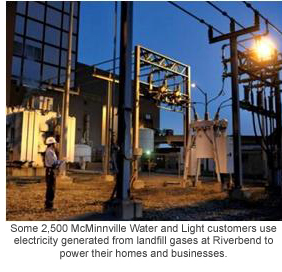 "Landfill gas is a local, renewable energy resource. Using landfill gas for energy offers significant environmental, economic, and energy benefits."
Climate Change Technologies Report, Environmental Protection Agency
When the waste you dispose of at home gets picked up at your curb and hauled to Riverbend, it eventually decomposes. During this process it produces methane gas.
We've installing a $10 million green energy system that converts that gas into electricity for local homes and businesses.
Collecting the gas is key to maintaining good air quality. Riverbend has been collecting and managing the landfill gas generated by the facility since 1993, using a system that includes collection wells, piping and vacuum to extract the gas from the waste.