Wildlife Habitat
"Waste Management has made enormous strides in the last several years in managing its properties to ensure the availability of healthy wildlife habitat. Riverbend Landfill is just one example of this commitment. The site's wildlife management program provides a unique asset for wildlife and the community alike."

Bob Johnson, Chair, Wildlife Habitat Council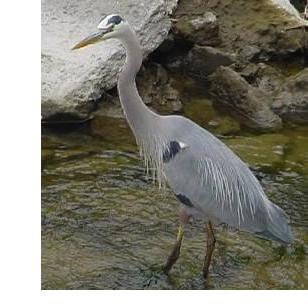 The nonprofit organization, Wildlife Habitat Council, works to increase the amount of quality wildlife habitat. Certified by the Council, Riverbend continues to provide opportunities that protect wildlife habitat and enhance wetlands and riparian forest along the riverbanks.
As part of its wildlife habitat program to help our feathered friends flourish, Riverbend initiated a nest box program in 1993. This program has evolved to include an osprey nesting platform and boxes for wood ducks, kestrels, screech owls, and bluebirds. Ground-dwellers were also welcomed by creating woody "habitat piles" for rabbits and other four-legged residents.
Riverbend Wins Wildlife Recertification
Published Nov. 26, 2011, in the Yamhill County News Register
Riverbend Landfill was recently presented with a Wildlife at Work re-certification by the Wildlife Habitat Council.
Riverbend is one of 110 Waste Management sites to earn the certification. Since 1990, the WHC has awarded 657 programs with the certification.
"Riverbend's steady and sustained approach to wildlife habitat enhancement is contributing to our healthy natural world in significant ways," WHC President Robert Johnson said at the organization's 23rd Annual Symposium. "Recertification symbolizes Waste Management's strong and continuous commitment to stewardship in Yamhill County."
The re-certification acknowledges Riverbend's promotion of native species while implementing projects to control invasive plant species, and its nest box program that provides habitat for cavity-nesting bats, bluebirds and wood ducks, as well as nesting platforms for osprey and woody debris nests for Mason bees.
"Successful wildlife habitat programs at Riverbend and across the country are now fundamental to our work to make the planet a better place for future generations to enjoy," said Waste Management president and CEO Jim Fish.
Riverbend was also recognized for a public education program. Earlier this fall, 65 scientists and environmental managers from around the world visited Riverbend to learn about the site's leachate management program. The strategy manages and treats landfill wastewater with a 45-acre poplar tree plantation.
"This method safely treats the leachate while at the same time generating high-quality clear dimensional lumber and pulp for the paper industry," according to Waste Management's website.
Riverbend is currently creating more than 20 acres of wetlands and enhancing an additional 20 acres to be contoured to create undulating depressions, facilitating different riparian wetland habitat types and hydrolic conditions, according to a press release.